Pela 650 Oil Extractor for cars, trucks, and boat engines. Remove fluids with a few pumps. Great for cars, boat engines, motorcycles, lawnmowers. Built-in float switch automatically stops extraction.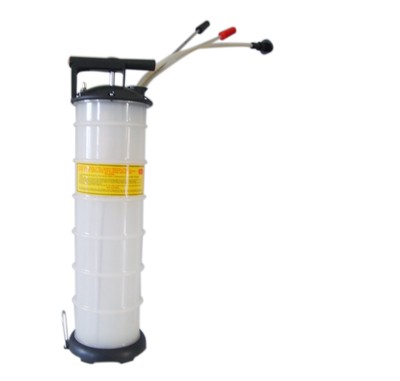 Description
Extracts all kinds of fluids including engine oil, transmission fluids, gear oil,coolant, and brake fluid. Requires just 4 to 15 strokes in a row to create a powerful vacuum. See-through, calibrated container allows user to see how much oil has been extracted. Built-in float switch automatically stops extraction as soon as capacity is reached. Pour spout facilitates emptying. With the pump housed inside the container, the unit is durable and maintenance-free. Stiffening ribs for added durability. Wide base for stability. Includes: Tubes: 3/16 ; 1/4 OD, 47 inches long. Also includes 39" extension tube. Ideal for professional use. To use:1) Warm up oil by running the engine. This allows the contaminates to mix and suspend in the oil. Remove the dipstick. Note: If you can't hold the dipstick comfortably in your hands, then the oil is too hot! Wait for the oil to cool off a bit. 2) Insert the appropriate diameter tube into the dipstick pipe until it touches bottom of oil pan. Connect the main tube to the top of the unit and to the extraction tube. 3) Pump the handle 4 to 15 times in a row to start the vacuum. The unit will extract the oil automatically. Continuous pumping NOT REQUIRED. 4) After oil has been extracted, press the release valve located at the top of the unit for 5 seconds. Remove the main tube. When pouring the oil into a container, hold the pump as in the photo and pour gently. Do not hold it upside down ! Note: No special cleaning is required. Empty as much oil as possible (do not store oil long term). NOTE: Not for use on gasoline or other flammables. NOTE: Unit is not compatible with some cars. If the dipstick has a sharp bend or an internal taper, the extractor tube will not be able to reach the oil pan. Also, if the dipstick is like a steel cable (rather than a flat metal), it probably won't work.The best way to check is to make sure the dipstick goes in and out easily.
Features:
Large 1.7 gallon reservoir
Just 4 to 15 strokes in a row to create a powerful vacuum
Calibrated to see how much fluid has been extracted
Built-in float switch automatically stops extraction
Pour spout facilitates emptying.
Product Details:
Brand: Pela Products
Item Weight: 6.35 pounds
Product Dimensions: 25.9 x 7.2 x 6.9 inches
Item model number: 650
Manufacturer Part Number: 650
Folding: No
Shipping Weight: 6.35 pounds
Date First Available: March 26, 2015
Handling

We will ship all orders within 1 business day of payment. Once we have confirmed that your order was picked up by the shipping carrier, we will update the tracking information through eBay.

Delivery

We Do Not Ship Outside of the Continental US. Please make sure shipping address is correct when checking out as the address cannot be changed after order is placed.

Return Policy

All items qualify for returns within 30 days of receipt.

Feedback

We take our reputation seriously, we buy and sell online, so we understand the value of trust. If you are unsatisfied with your order, please contact us and we will work with you to resolve it to your satisfaction.